Tired of waking up feeling like you've been wrestling with your mattress all night? If so, the best medium-firm mattress could be the sleep solution you are looking for. These mattresses offer an ideal balance of support and comfort, promoting healthy spinal alignment and restful sleep.
Are you ready to invest in a medium-firm mattress to get a good night's rest? Read on for the top 8 picks of 2023 chosen by our in-house Home of Cozy mattress expert.
Best Medium Firm Mattresses
Brand
Best For
1

Editor's Choice

Overall
Shop Now
2

Side Sleepers
Shop Now
3

Combination Sleepers
Shop Now
4

Luxury
Shop Now
5

Couples
Shop Now
6

Organic
Shop Now
7

Plus Size
Shop Now
8

Budget
Shop Now
1
Editor's Choice
2
3
Best For:
Combination Sleepers
4
5
6
7
8
How Did We Make This List?
In our never-ending quest to offer you restorative sleep night after night, we've compiled a list of the best medium-firm mattresses, using criteria most important to sleepers tired of that sunken-in or overly firm feeling, including:
Spinal Support: A good night's rest isn't just about comfort; it's also about maintaining a healthy posture while you sleep. Medium-firm mattresses can offer the right amount of pressure-relieving support to keep your spine aligned and ward off morning stiffness.
Quality Materials & Construction: The construction and materials used in a mattress directly impact its comfort, support, and longevity. We've focused on mattresses built with superior materials, industry certifications, and warranties that stand the test of time for years and years of restful nights.
Price Point: A good night's sleep shouldn't break the ban, no matter the firmness options. We've included mattresses across a range of price points to suit different budgets without compromising on comfort and support.
Read on for detailed mattress reviews that guarantee the perfect sleep quality every night without sacrificing safety, comfort, or price.
Detailed Reviews of the Best Medium-Firm Mattresses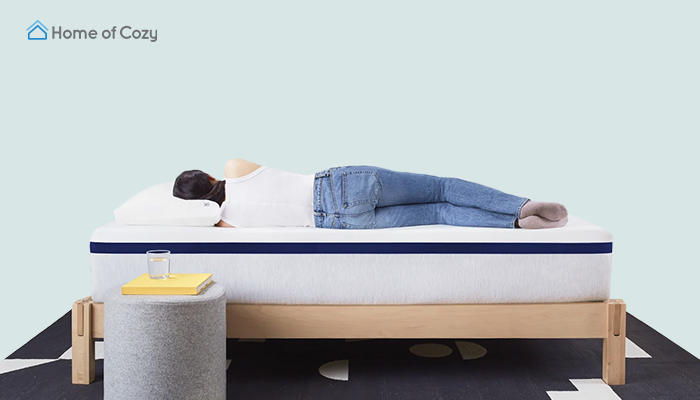 Price Range: $936.30 – $1,748.80
Mattress Type: Hybrid
Firmness: 5/6 out of 10
Trial Length: 100 nights
Warranty: 10-year
Why I Picked This Medium Firm Mattress
This list is full of the best medium firm mattress options for all sleepers, but this one got the top spot thanks to its excellent manufacturing, generous shipping policies, and impressive trial period and warranty. Additionally, I found that it was the most well-rounded option, meaning that side, back, or combination sleepers can all get a quality night's sleep without worrying about waking up in pain.
What I Loved
After a few seconds of laying on the Helix Midnight medium firm mattress, I loved everything about it. The hybrid construction instantly supported the weight of my body in all the right places, making me feel like I was floating. And the feeling lasted no matter which position I turned to.
The elite design of this medium-firm mattress is ultimately what gave me one of the best nights of sleep I've ever had. To reach its 5 to 6 level of firmness, Helix has layered responsive memory and dense foam with reinforced, individually wrapped coils to provide a soft but supportive sleep surface.
But the CertiPUR-US and GREENGAURD GOLD Certified foam and coil layers were working alone to keep me comfortable all night; the mattress was also topped with the brand's cooling gel cover, a soft, light-stretch fabric that keeps you cool no matter what.
What I Didn't Love
The only thing I didn't love had less to do with the mattress and more with what I expect from a reputable brand – freebies. I am not saying they should give away the prerequisite modern frames or platforms needed to support this mattress, but I do wish they had made their wedge foam pillow perfect for side sleepers or a mattress protector as part of the deal instead of an optional add-on.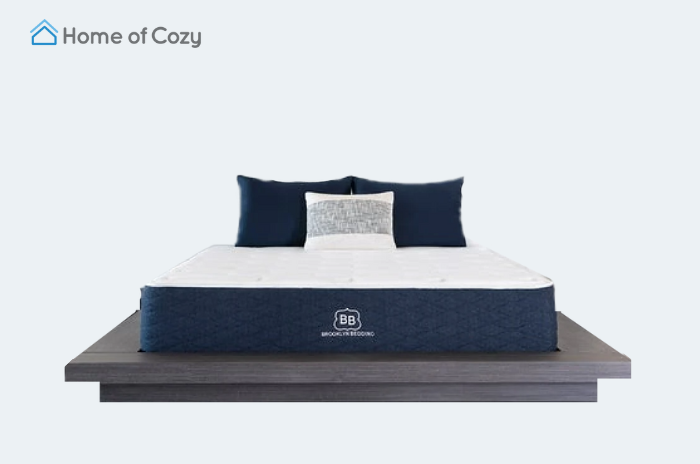 Price Range: $665 – $1599
Mattress Type: Hybrid
Firmness: 4 to 6 out of 10
Trial Length: 120 nights
Warranty: 10-year
What I Loved
The encased zoned coils and multiple foam layers of the Brooklyn Signature contoured to my body like no other, providing the perfect combination of pressure relief and support for my side sleeping nature. Combined with the optional plush pillow top upgrade I added to the order, I felt hugged and cradled the entire night, making me sleep soundly without feeling any pain or grogginess in the morning.
I think what really makes this medium-firm mattress so great for side sleepers is the considerable ratio of coils to contouring foam layers. With a large portion made up of coils moving independently of each other for adaptive contouring during sleep and responsive memory foam layers to provide targeted support, the Brooklyn Signature ensures you stay comfortable no matter how much you toss and turn.
I also loved the height of this mattress; it was not too short or too tall. Measuring 12.5″, it provided the right amount of loft for me to sleep comfortably and still easily get on the bed.
What I Didn't Love
If I hadn't gone for the plush top upgrade, I am not sure my sleep quality would have been what it was. The mattress on its own could be considered on the harder end of the medium firm, and if you are a side sleeper who likes softer mattresses, you may want to consider adding the optional top layer for extra cushioning and comfort.
Why I Picked This Medium Firm Mattress
I have reviewed many of the best mattresses, and few have the design needed to best support side sleepers who tend to toss and turn a lot during the night. The Brooklyn Signature medium firm mattress rises to the occasion with supportive, contouring sleep technology to keep you comfortable all night long.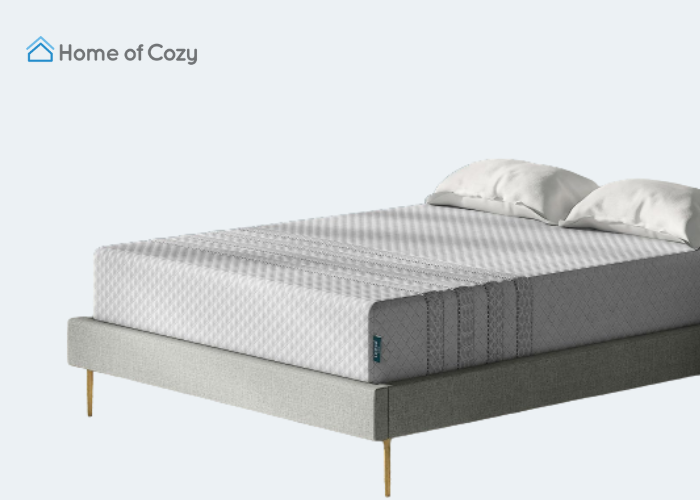 Price Range: $1,349 – $2,299
Mattress Type: Hybrid
Firmness: 5 to 7 out of 10
Trial Length: 100 nights
Warranty: 10-year limited
What I Loved
While I primarily am a side sleeper, there are times when my side hurts, and I need to switch up my sleeping position. Usually, this detracts from my overall sleep quality, but with the Leesa Sapia Hybrid, I experienced nothing but ergonomic support and immediate responsiveness no matter the position I got into.
Much of this has to do with Leesa's relaxed firm rating, coming closer to the firmness back sleepers need without sacrificing the plushness and comfort side sleepers require. The secret? This hybrid mattress combines edge-supporting individual coils with four layers of proprietary foam technology to ensure you get the perfect sleep no matter how much you move around at night.
And because the top comfort layer is made from breathable, ultra-fine plant-based fibers, I could sleep without feeling sweaty or hot on my back – an issue that can cause me to turn over again and end up in pain.
What I Didn't Love
Ultimately, the only thing I didn't love about this medium-firm bed was the very thing that makes it so great for combination sleepers: its firmness level. While it was great for those nights when I needed to switch positions mid-sleep, it was a little firm for the majority of nights when I slept on my side. That said, the company was great about honoring the 100-night sleep trial, and there was no hassle when I returned it for something that better suited my comprehensive needs.
Why I Picked This Medium Firm Mattress
With so many of the best mattress options catering solely to back or side sleepers, I wanted to feature a mattress designed to work for all sleep styles. This hybrid mattress definitely meets that criterion, working hard to provide the ultimate support and comfort when your sleeping positions change regularly throughout the night.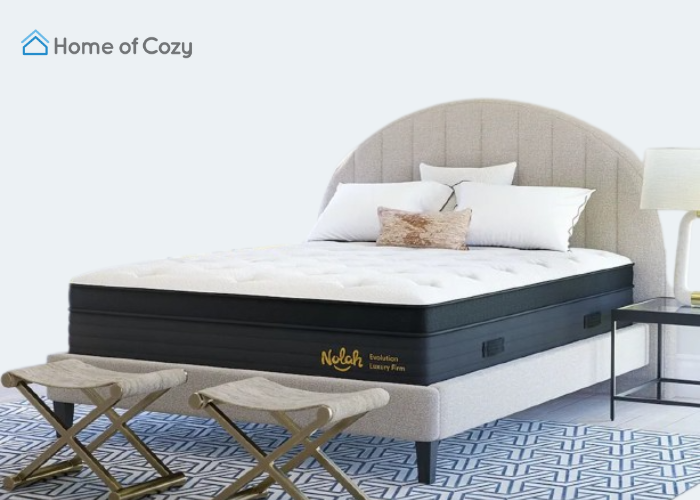 Price Range: $1,499 – $3,198
Mattress Type: Hybrid
Firmness: 4/5 out of 10
Trial Length: 120 nights
Warranty: Lifetime
What I Loved
Few 15″ mattresses offer the luxury firm feel that the Noah Evolution provides. I awoke after sleeping on it with noticeably better mobility and a lot less pain than I typically experience with innerspring mattresses.
The genius behind the mattress is its incredible design, layering high-tech foam technology with pocketed coils for round-the-clock support of your pressure points. Plus, the mattress is topped with a luxurious fabric cover that helps keep you cool and comfortable all night long, ensuring no need to move around a lot to find a comfortable sleeping position.
Though the benefits of sleeping on this luxurious mattress are numerous, they don't come as a shock considering the number of awards and accolades it has received. With Forbes, Healthline, and Good Morning America all agreeing this is the best mattress for back pain, side sleepers, and anyone wanting pure luxury, it's a definite must-have for anyone needing a medium-firm feel to help them sleep.
What I Didn't Love
Pain-free sleep and free pillows with purchase aside, the only thing I didn't love about this mattress was that the off-gassing process took a little longer than other mattresses I have purchased. In fairness, the extended new mattress odor was probably due to the multiple foam layers and on-demand construction that provides the ultimate luxury experience. Still, you may want to air it out for a few days before sliding onto whatever bed frame or platform you use.
Why I Picked This Medium Firm Mattress
For some people, a bed isn't just a bed, and the Nolah Evolution is, without a doubt, the most luxurious mattress I have had the pleasure of testing. With all-night ergonomic support and a luxurious top layer, you can expect to awake from a deep sleep feeling revitalized, refreshed, and ready for whatever comes with a new day.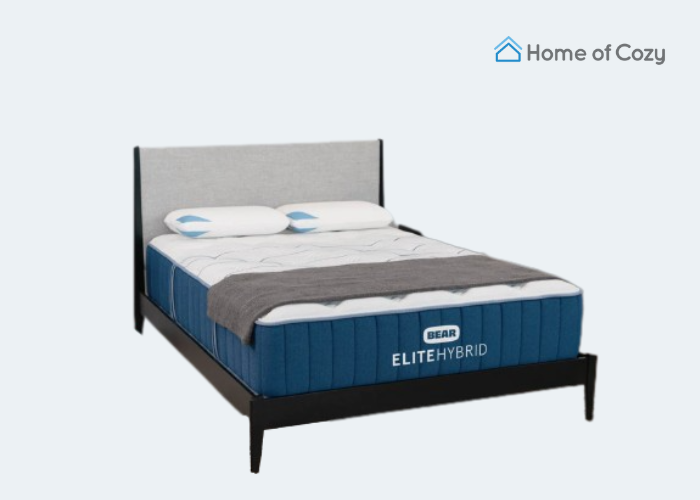 Price Range: $1,721 – $3,565
Mattress Type: Hybrid
Firmness: 6 out of 10
Trial Length: 120 nights
Warranty: Lifetime
What I Loved
This mattress was a godsend for my partner and me, who both tend to move around during the night. Its core supporting design reduces motion transfer like nothing I have ever felt, or rather not felt, leaving us both waking from a peaceful night's sleep.
Our night of motionless sleep resulted from expertly crafted dynamic transition foam and individual cased coils with a heavy emphasis on core support. Together, these two features work with the copper-infused cooling layer of memory foam and reinforced edge support coil system to provide a motionless sleep that also supports the hips, lower back, and neck with luxurious comfort.
And because of the intensity of the cooling airflow design and softness of the hand-quilted cushion cover, night sweats, overheating, and tossing and turning through the night were all a thing of the past, ensuring a motionless slumber that can bring couples much closer together.
What I Didn't Love
The only thing I didn't love about this mattress was the lack of organic materials in its construction. While the technology used to create its supportive edge, reduce motion transfer, and cool the body are all top-notch, I would have felt even more peaceful if the mattress topper had been made with organic cotton or bamboo. I think that would have taken its luxurious value up a notch.
Why I Picked This Medium Firm Mattress
Sometimes, poor sleep quality has nothing to do with your mattress; it has to do with your partner's movements. Thankfully, this Bear Elite hybrid with a lifetime warranty was designed specifically for partners that move around a lot during sleep, giving them both the support and motion reduction they need, allowing couples to drift off into dreamland quicker and stay there longer.
Best Organic Option: Birch Luxe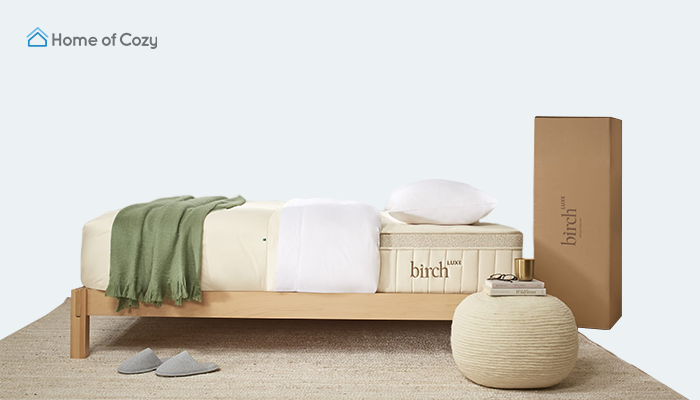 Price Range: $1,998.80 – $3,748.80
Mattress Type: Hybrid
Firmness: 6/7 out of 10
Trial Length: 100 nights
Warranty: 25-year
What I Loved
Eco-friendly mattresses can sometimes be hit or miss due to the lack of advanced materials commonly used to provide the right hip and lumbar support for side sleepers. But, the Birch Luxe successfully bridged the gap between organic and supportive with a unique blend of natural materials, like organic latex, wool batting, and individually wrapped steel coils.
One of the benefits of sleeping on an organic mattress is that it helps keep your body temperature regulated all night, especially during the summer months. That said, the organic wool batting and natural latex layers also offered extra cushioning that allowed me to sink into a deeper sleep quicker than other organic mattresses I have tried.
I also loved how the unique design would cradle my body no matter my position, an excellent plus for side-heavy combination sleepers like me. And because the latex layers work to keep my body weight evenly distributed across the bed, the motion isolation was just as good as any traditional hybrid mattress.
What I Didn't Love
I didn't love that this hybrid latex mattress lacked the same bouncy feeling that I have come to enjoy in the traditional hybrid mattress I am used to. That said, if you're looking for an organic mattress that offers support and pressure relief but don't mind sleeping on a firmer surface, this is the perfect choice. Otherwise, opt for the plush pillow topper for a little extra cushion.
Why I Picked This Medium Firm Mattress
Getting high-quality sleep shouldn't get in the way of the environment, which is why I chose Birch Luxe. Its unique blend of natural materials and individually wrapped steel coils gives you a luxurious mattress without sacrificing comfort and support or creating hazardous waste.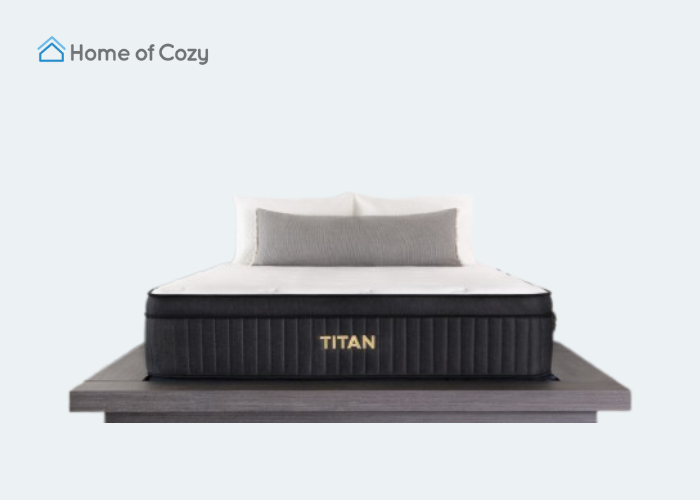 Price Range: $899 – $1,799
Mattress Type: Hybrid
Firmness: 5 to 7 out of 10
Trial Length: 120 nights
Warranty: 10-year
What I Loved
Even with the best hybrid mattresses, a plus-size body type can sometimes have difficulty finding quality support and comfort. But the Titan Plus Luxe was designed with plus-size sleepers in mind, featuring a unique blend of foam layers and 8″ coils that can handle up to 1000 lbs of body weight while providing maximum support and body contouring for a better night's sleep.
The gel, comfort, and transition foam layers of this 13″ mattress allowed it to contour and support my body in any sleep potion. And while a complete memory foam mattress would sag under the weight of a plus-size body, the Titan Plus Luxe features a TitanCore coil system that ensures durability and an even weight distribution for a comfortable, sink-free night's rest.
And while you could get away with sleeping on the cotton-covered, cooling-gel foam mattress top, I recommend adding the additional optional cooling cover as it guarantees your skin temperature never reaches more than 88 degrees Fahrenheit, a huge benefit for myself and anyone else who finds they sweat a lot in the night.
What I Didn't Love
I wish I had known that the handles on the bed's side were decorative and unsuitable for moving the mattress onto the flat bed frame. Because the brand doesn't have a white glove delivery service, I ended up getting a few friends to help me maneuver the mattress to its new home.
Why I Picked This Medium Firm Mattress
I have reviewed tons of the best mattresses for Home of Cozy and was thrilled to feature one designed with plus-size sleepers in mind. The Titan Plus Luxe offers the perfect blend of comfort, support, and temperature regulation – all wrapped up in a luxurious mattress design that will last years to come, no matter how much you weigh.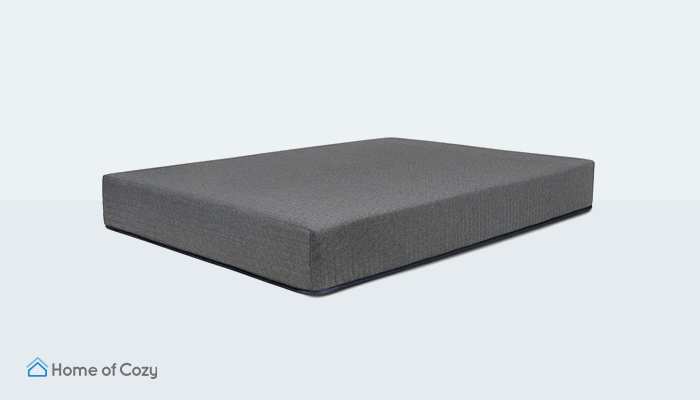 Price Range: $274 – $699
Mattress Type: Foam
Firmness: 4 to 6 out of 10
Trial Length: 120 nights
Warranty: 10 years
What I Loved
It's hard to find an all-foam mattress that can provide the type of support a hybrid mattress can, but the Dreamfoam Essential surprised me with its comfortable firmness and superior support. The combination of memory foam and high-density foam layers offers a perfect balance between cushioning and contouring, allowing my hips to settle comfortably without losing overall spinal alignment.
Because of the top layer cooling gel technology, the mattress feels cool to the touch and stays cool throughout the night. I haven't felt overheated or sweaty at all, which has been a huge plus, considering how hot the summers have been lately.
While I opted for the 12″ mattress because it has a little more softness to its overall feel, I don't doubt that the firmness level of the 14″ foam bed could support stomach sleepers who typically need a firmer bed. In either case, the price is so affordable compared to the original mattress that you won't feel guilty about investing in the right size for your sleep needs.
What I Didn't Love
The bed-in-a-box delivery was great, but I wished the packing had been slightly different, as it felt like the queen-size mattress needed a few extra days to expand. While it didn't necessarily take away from the overall sleep quality, it did look weird having the edges not entirely flush with the frame. I'd recommend giving it a couple of days before you start sleeping on it so the mattress has time to expand fully.
Why I Picked This Medium Firm Mattress
I have always believed that comfort doesn't have to cost a fortune, and the Dreamfoam Essential is proof of that. Perfect for any budget-conscious person who still wants to invest in quality sleep comfort, this mattress offers superior support and cooling features, all at an unbeatable price and a generous 10-year warranty.
Get A Firmer Mattress With That Soft Feel
Medium firm mattresses ensure you've got the support you need to keep your spine aligned and pressure points relieved without sacrificing that cozy, soft feeling that helps you drift off to dreamland.
And with their advanced cooling gel-infused technologies, supportive coil systems, and counting foam layers, these mattresses will surely give hot sleepers, side sleepers, plus-size sleepers, and anyone in between the best chances of restful, uninterrupted sleep.
With so much to offer, it's no wonder medium-firm mattresses have become one of the top choices for finding a good night's sleep in 2023.