Back pain does more than cause discomfort; it can interfere with your daily activities and affect your overall quality of life. If you've done everything possible to alleviate your back pain but still struggle to get a good night's rest, it might be time to consider investing in a new mattress.
Best Mattress for Back Pain
Brand
Best For
1

Editor's Choice

Shop Now
Shop Now
2

Side Sleepers
Shop Now
3

Most Comfortable
Shop Now
4

Value
Shop Now
5

Couples
Shop Now
6

Organic
Shop Now
7

Firm
Shop Now
8

Plus Size
Shop Now
9

Budget
Shop Now
1
Editor's Choice
2
3
Best For:
Most Comfortable
4
5
6
7
8
9
How To Choose The Best Mattress For Back Pain
Understand the cause of your pain.
The source of discomfort is the key to choosing the best mattress for back pain. For many, tension and soreness result from sedentary lifestyles or poor posture. Others develop chronic pain due to spinal conditions such as scoliosis, arthritis, or herniated discs. Sometimes, the lack of breathability or support in a classic mattress causes tossing and turning, exacerbating back pain.
For clearer insights into the cause of your back pain, consult a physician before choosing a new mattress.
Read mattress reviews.
The best mattress brands have extensive review sections on their site from verified buyers. This is an excellent place to start when choosing the right mattress for your specific back pain needs.
Look for reviews that mention your particular type of back pain, and take note of which mattresses have positive ratings and comments. This way, when you visit a mattress retailer, you can narrow down your options to those that have been highly recommended by others with similar issues.
Consider the material and construction.
Breathability, cooling technology, motion isolation, and organic mattress materials are the main factors to consider when shopping for the best mattress for back pain.
Memory foam and latex mattresses are popular among people with back pain because they conform to the body, offering pressure relief, support, and motion isolation. Innerspring or hybrid mattresses can also provide optimal support and airflow for hot sleepers.
Compare trial and warranty periods.
If you have ordered a mattress online, you may not have had the opportunity to test it before purchasing. So make sure you choose a brand that has an extensive sleep trial period and a warranty that covers structural defects, sagging, and other issues that may arise. This way, you can try out the mattress for an extended period of time to ensure it is the right fit for your back pain needs.
Don't sacrifice quality for price.
Not everyone's budget allows for an expensive mattress, but when it comes to alleviating back pain and improving your overall health, investing in a quality mattress is worth the cost.
Look for sales or discounts from reputable retailers and consider financing options if needed. Remember that a good mattress can last up to 10 years, so the initial investment will pay off in the long run.
9 Best Mattresses For Back Pain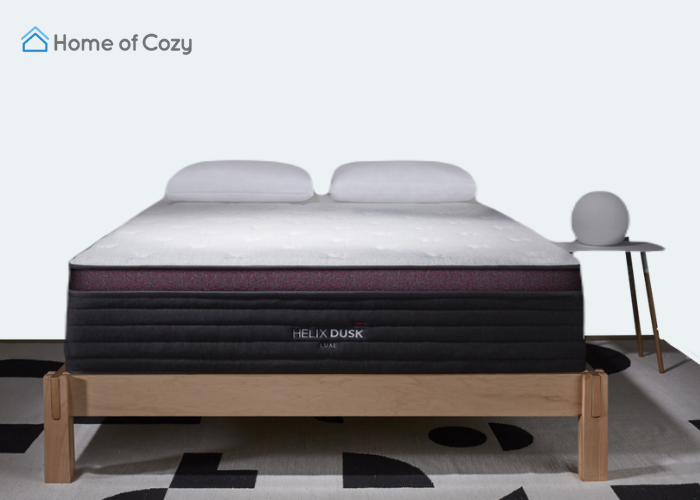 Price: $1,378.80 – $2,378.80
Mattress Type: Hybrid
Sleep Trial Period: 100 nights
Warranty: 15 years
Why We Picked This Mattress
With its multiple awards for being the best in just about every category that matters to back pain sufferers, couples, hot sleepers, and more, the Helix Dusk Luxe offers a blend of comfort and support that is hard to beat.
What We Loved
We loved that no matter your sleep position, the Helix Dusk Luxe provides enough support for your spine to stay in a neutral alignment, reducing back pain. This particular benefit results from its hybrid design, which incorporates both responsive and memory foam with 1000 pocketed coils for optimal comfort and back support.
The medium-firm mattress is also designed to control common issues sleepers have that contribute to their overall back pain. Namely, the optional cooling gel cover ensures you won't overheat, and the individually pocketed coils help isolate motion, so your partner's movements won't disturb your sleep – reducing the tossing and turning that exacerbates back pain.
And because the design ensures long-lasting edge support and no sagging through its coil system and base layer of DuraDense Foam, you can feel confident that the Helix Dusk Luxe will last for years to come.
What We Didn't Love
You may need an extra set of hands to help you get this mattress from its compact packaging onto your bed. Fortunately, the setup process is pretty simple, and you only need a pair of scissors and about 45 minutes to start getting the best sleep of your life.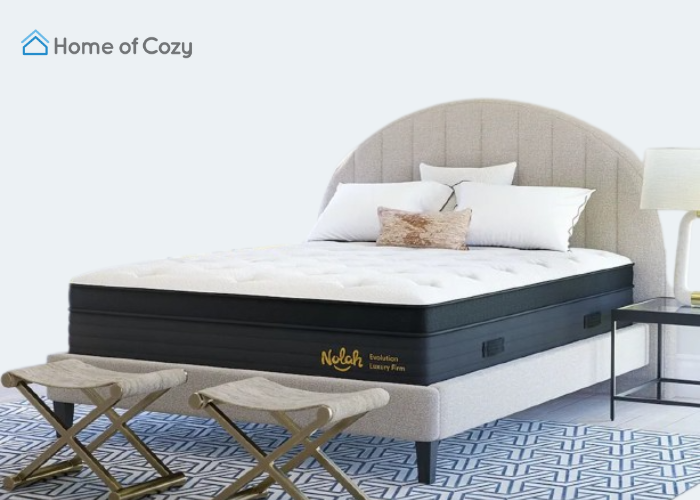 Price: $1,499 – $3,198
Mattress Type: Hybrid
Sleep Trial Length: 120 nights
Warranty: Lifetime
Why We Picked This Mattress
The Nolah Evolution does more than reduce back pain and optimize spinal alignment; it ensures side sleeping doesn't damage the body on a mattress that's too soft or poor quality. These factors, combined with its thousands of 5-star reviews, secured its place in our top picks of the best mattresses for back pain.
What We Loved
The unique TriZone Coil system supports pressure points unlike anything we've tested for side sleepers. The design targets pressure points that include the hips, shoulders, and upper back, giving side sleepers better pressure-relieving effects than they're used to with a traditional memory foam mattress.
Hot sleepers will also find this mattress an excellent solution for a cool and comfortable sleep. Its top foam layer is infused with phase change material that actively absorbs heat, keeping you cool throughout the night while still providing that much-needed support.
Unlike other mattresses, the Nolah Evolution comes in 3 different variations – Plush, Luxury Firm, and Firm, making it easy to find the perfect fit for your specific back pain needs.
What We Didn't Love
The multiple layers of this high-quality mattress ensure longevity, but this also results in a slightly heavier mattress than others on this list. While it does fit any solid and adjustable base, boxspring, or flatbed surface, be sure that the frame is sturdy enough to support the weight before purchasing.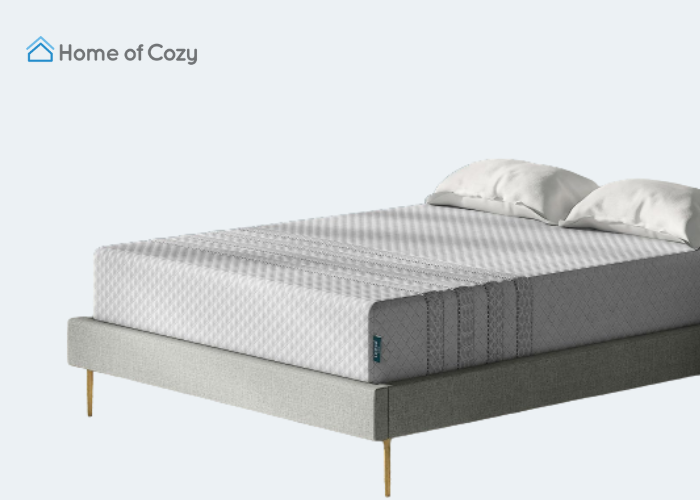 Price: $1,349 – $2,299
Mattress Type: Hybrid
Sleep Trial Length: 100 nights
Warranty: 10-year, full replacement, limited
Why We Picked This Mattress
If you are in the market for a contouring, soft mattress that helps reduce upper and lower back pain from a long day, the Leesa Hybrid is an excellent option. It has earned high marks from customers for its pressure relief and comfort layers, making it a top choice for back pain sufferers.
What We Loved
The plant-based cover and thick comfort foam layer provided excellent pressure relief, reduced motion transfer, and complete freedom of movement to ensure a restful night's sleep. These features, combined with an individually wrapped coil system, meant superior comfort for all our testers, especially combination sleepers who change positions frequently in the night.
We also found the breathability unmatched, thanks to the unique airflow system that keeps you cool throughout the night. This feature also helps to prolong the life of your mattress by preventing heat-trapping and moisture build-up.
Stress-free setup with the white glove delivery service was also great. While you can easily set this mattress up on a solid foundation, having Leesa's team do the work for you ensures a hassle-free experience that even includes the removal of your old mattress.
What We Didn't Love
Its medium-firm feeling may be too hard for those looking for a softer mattress with a plush feel. However, Leesa does offer a variety of solutions to increase plushness, including a 2″ mattress topper made with the same high-quality materials as the bed itself.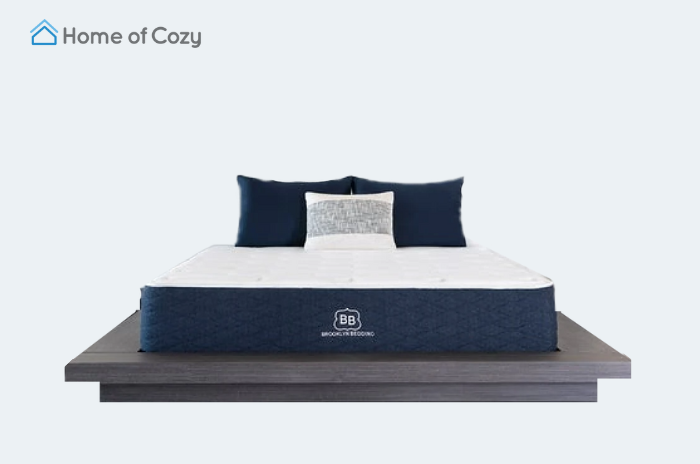 Price: $665 – $1,599
Mattress Type: Hybrid
Sleep Trial Length: 120 nights
Warranty: 10-year
Why We Picked This Mattress
When you buy the Brooklyn Signature Hybrid, you can get the features you need without compromising on lumbar support, firmness levels, or quality of materials. With options available for every type of sleeper, this mattress is a fantastic value for anyone looking to reduce chronic back pain and enhance their overall sleep quality.
What We Loved
We tried every firmness level option for this hybrid mattress. Each option had something unique, but all had one thing in common: exceptional support. With individually wrapped coils and high-density foam, this mattress contours to your body, ensuring proper spinal alignment that supports the needs of side, back, and stomach sleepers.
But the value included in this mattress doesn't stop at just comfort and extra support. Brooklyn Bedding incorporates a moisture-wicking, plush pillow top into all its designs, making it a perfect fit for hot sleepers looking to maintain coolness throughout the night.
The delivery was also incredibly fast. Unlike other mattress retailers that need several days to manufacture and ship, Brooklyn Bedding has its own factory, enabling them to deliver the mattress in 2 to 7 days from when you place your order.
What We Didn't Love
Thinner foam layers compared to other hybrid mattresses on this list may mean more bounce and noise when moving around in bed at night. However, with the optional Cloud Pillow Top add-on, you can increase the thickness and reduce that bouncy sound of getting into bed.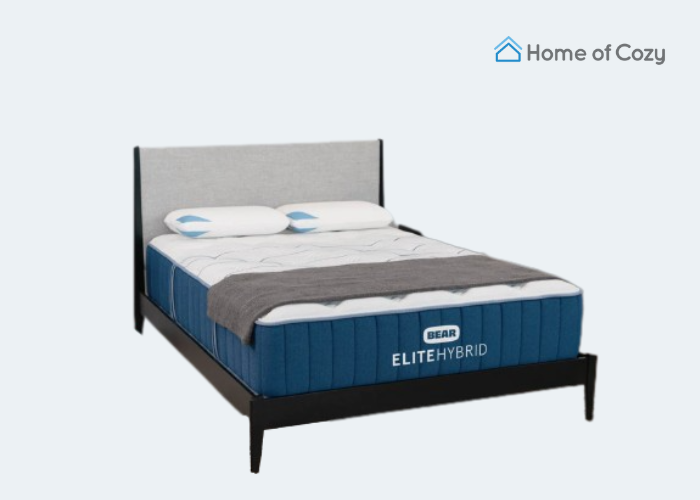 Price: $1,893 – $2,762
Mattress Type: Hybrid
Sleep Trial Length: 120 nights
Warranty: Lifetime
Why We Picked This Mattress
Couples suffering from back pain can unintentionally cause discomfort to their partner when sharing a mattress. The Bear Elite Hybrid addresses this issue with a luxurious, high-end hybrid design that guarantees maximum support, comfort, and, most importantly, motion isolation for a restful night's sleep.
What We Loved
You can really feel the five-zone coil support system designed to provide targeted pressure relief and lumbar support without compromising on comfort. This design definitely reduced the aches and pains in our testers' backs, no matter what sleeping position they favored. Plus, it adds to the motion isolation effect, so you can enjoy undisturbed sleep even if your partner tosses and turns.
We also found that the Phase Change Material was unique in its cooling abilities, providing comfort and breathability throughout the night. This particular feature was a highlight for our couple testers, who frequently have different body temperature preferences.
The Celiant fiber woven into the cover also provided a rejuvenating effect for our testers, reflecting infrared light to potentially increase oxygen circulation and promote muscle recovery while you sleep.
What We Didn't Love
While it did decompress within 48 hours, we ended up waiting an extra couple of days to make sure we could test the full 14″ height of the mattress. So, if you are impatient for a comfortable and supportive sleep experience, it may be worth it to factor in a few extra days for full expansion before you get rid of your original mattress for this one with a lifetime warranty and 120-night trial.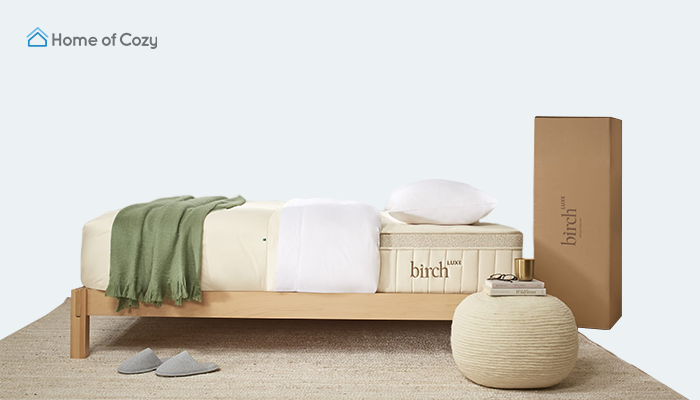 Price: $1,998.80 – $3,748.80
Mattress Type: Hybrid
Sleep Trial Length: 100 nights
Warranty: 25-year
Why We Picked This Mattress
Allergies to synthetic materials can lead to uncomfortable nights and interrupted sleep, exacerbating back pain issues and ruining your overall sleep experience. However, the Birch Luxe offers a solution for those looking for an organic and all-natural option that doesn't compromise on comfort or support.
What We Loved
Substituting layers of foam for organic cashmere and wool gave our testers a cool and comfortable sleep experience. Combined with the 1000 individually wrapped coils and natural latex layer, we found this mattress to offer a superior level of support not usually available with other types of mattress options.
The Euro top layer was a unique feature that added plushness to the mattress while still providing a supportive, firm feel. Plus, knowing that every component of this mattress is sustainably sourced and non-toxic made us feel good that our search for the best mattress for back pain wasn't adding to our environmental impact.
We also loved that this mattress has enhanced edge support, a feature sometimes lacking in other natural hybrid designs. This means more stability when getting in and out of bed, as well as more usable surface space for sleeping.
What We Didn't Love
Mattress firmness options were limited, only available in a plush medium feel that may be too soft for back sleepers suffering from lower lumbar pain. However, you can get a firmer mattress by opting for one without the plush Euro topper, upping the firmness level a few points and decreasing your pain exponentially.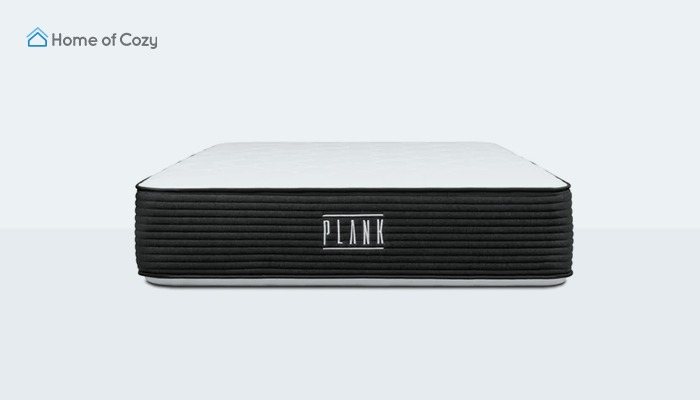 Price: $1,024 – $1,932
Mattress Type: Hybrid
Sleep Trial Length: 120 nights
Warranty: Full 10-year
Why We Picked This Mattress
Just because you like a firm mattress doesn't mean you should suffer through a terrible night's sleep. The Plank Firm Luxe offers an excellent, firm option that doesn't compromise on hip support, lower back pain relief, or overall comfort.
What We Loved
Though rated at a firmness level of 6/8, you wouldn't know it by lying on it. It was one of the most comfortable mattresses for back pain we've tested, with a responsive surface that seemed to push back in all the right places without creating too much pressure.
The six-inch coil support system is sandwiched between two identical foam layer designs, meaning that this mattress is flippable, something our testers who prefer a very firm option found incredibly appealing. Plus, the reinforced edge support and breathable cooling materials made it a more rejuvenating and restorative sleep experience.
We also love that it is approved by the American Chiropractic Association, as it's rarely seen in firm mattress options. This backing, combined with its proven ability to offer optimal spinal alignment, was really the cherry on top of a great, pain-free night of sleep.
What We Didn't Love
There was a bit of a hunt for finding the right frame as the Plank Firm Luxe is best when kept on a flat solid surface rather than a boxspring or wide gapped slatted base. If your current frame doesn't fit the bill, consider adding one of the brand's compatible foundations or platform frames to your purchase.
8. Best For Plus Size Sleepers – Titan Plus Luxe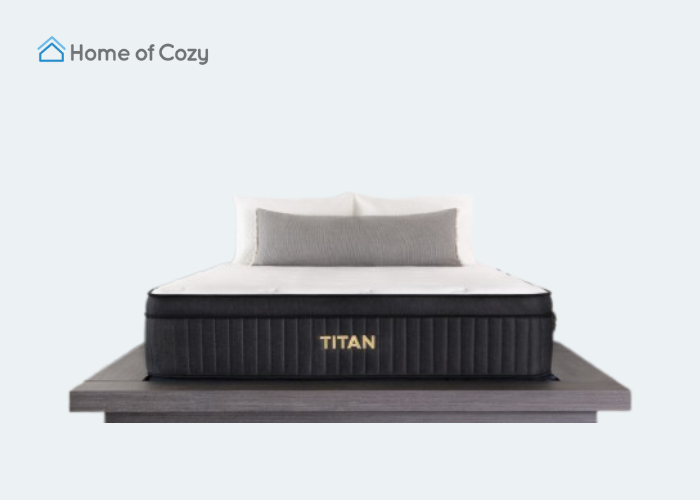 Price: $899 – $1,799
Mattress Type: Hybrid
Sleep Trial Length: 120 nights
Warranty: 10 years
Why We Picked This Mattress
Big, tall, or powerfully strong people often suffer from back pain due to a lack of support from traditional innerspring mattresses. However, the Titan Plus Luxe is designed specifically for plus-size sleepers, providing a resilient and comfortable night's sleep regardless of your body type.
What We Loved
Our biggest testers, weighing in at over 300 pounds, could not stop raving about the plush comfort of this mattress that left no sagging or significant indentations after several weeks of using it. This superior durability is a result of the mattress's 8″ coil system and high-density comfort and cooling gel foam layers that provide its cushioning support without creating an overly firm feeling.
We found the optional cooling cover incredibly effective, as larger sleepers often complain about overheating and night sweats. And because it's sewn into the cover, it won't shift, slide, or affect the overall height of the mattress.
Unboxing the mattress was also a breeze. While not quite a bed-in-a-box, it is slightly compressed but easily expands not too long after opening, ensuring you can test the full quality of this 13″ mattress faster than other plus-sized models.
What We Didn't Love
The shipping time was quite long for this mattress, averaging just under the 12-day maximum delivery the website advertises. That said, it was well worth the wait for the easy setup, sag-free results, and cool sleep experience that allowed bigger frames to finally enjoy a better night's sleep.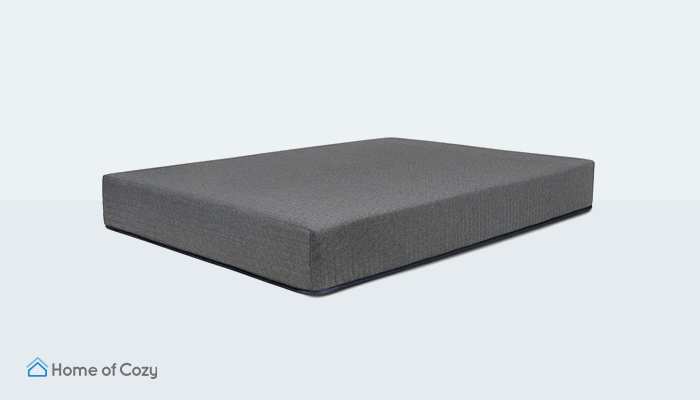 Price: $274 – $1,149
Mattress Type: Foam
Sleep Trial Length: 120 nights
Warranty: Full 10-year
Why We Picked This Mattress
This cooling gel foam mattress ensures you sleep pain-free without breaking the bank. Backed by awards from leading publications like Forbes and Good Housekeeping, we are positive that this bed-in-a-box option will provide a great night's sleep no matter your budget.
What We Loved
We tested the larger 14″ queen size option that included an extra layer of transition and high-density support foam, which was both cooling and comfortable as it hugged our body's natural curves while keeping us from sinking in too much.
However, you don't need to spend extra for additional firmness and support layers, as the 6″, 8″, and 10″ options provide two thick layers of cooling gel and memory foam to create just as plush a sleep surface without losing the ability to reduce the frequency of back pain in the morning.
Our final favorite aspect of this memory foam and cooling gel mattress was the ability to customize it for your particular firmness levels. Thicker options provide more plush softness, while thinner options give back and stomach sleepers a firmer surface to align their spine.
What We Didn't Love
The simple yet high-quality design is one of the things that makes this supportive mattress so great for budget-friendly shoppers, but it also means that there aren't the same types of add-ons that can turn your sleep experience into a luxury one. However, if you are looking for a dependable and effective way to reduce back pain without going over budget, the Dreamfoam Essentials all-foam mattress with a 10-year warranty is definitely the way to go.
Reduce Back Pain With The Best Mattress Brands
Whether it's a firm mattress to alleviate back pain or a plush new bed that adapts to your shape for more enhanced pressure relief on hips and shoulders, the right choice will ultimately depend on your sleeping style and body type. But with the right supportive, cooling mattress, you can finally look forward to waking up pain-free and enjoying a better quality of life.
At Home of Cozy, we are dedicated to helping you find the best mattresses for a great night's sleep and less pain in the morning. Check out our extensive mattress reviews for more tips and recommendations for getting the quality sleep you deserve without compromising comfort or price.